I haven't been updating much, but I haven't been idle. These are some of the things I've been making at Techshop recently.
Cutting boards
The first two have been oiled, the last one still needs to be finished. They are made out of maple, cherry and walnut. These are a simple woodworking project that turned out really nicely. I learned quite a lot about basic wood-shop tools. These first three were simple checker designs, next I'm going to try and make some more elaborate designs and see if I can sell any.
Wood and paper lamps

These are two lamps I am working on, they were actually the first things I made on the CNC machine. They are both made of cherry, and the skin is hemp fiber paper. The skinny one was copied from another lamp, while I designed the round one myself on the computer using Autodesk Inventor. I need to change the design to fix a few small problems, but I think it's a good prototype. Below is a video of the lamps being made.
Clothes drying rack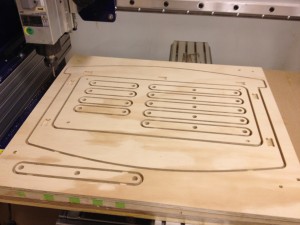 This is a clothes drying rack which can be mounted on the wall and extended out or folded up. All the parts were cut on the ShopBot CNC machine (computer controlled cutter).
 Floating stair treads
This was my first profitable project, some white oak stairs treads I worked on for a contractor I met at Techshop. He had the lumber, but needed the underside cut perfectly to mount on metal supports. The above picture is from the finished house where they are installed (credit: Teed Haze – developer). Below is me making the stairs.